It's been a very long week at work, a week which has seen me working for over 12 hours each day for the best part of two weeks. Just about everything in my life has ground to a halt, whilst this happens. I've got a massive stack of new comics just waiting to be read (including the finale to War of the Supermen), and unofrtunately, work on World of Superman also got placed onto the back burner. I'm finally getting back on track, working on my review of World's Finest #2, which should be up sometime over the weekend, but for now, in the spirit of whichever Kubert brother worked on the Richard Donner co-written run on Action Comics, here comes a fill-in post.
Today, I'm gonna trawl through my iTunes feed and have a look at the podcasts I listen to on a regular basis, some comics-based, others not, and share them with the wider world.
From Crisis To Crisis: A Superman Podcast
My first, and favourite, podcast. Michael Bailey and Jeffrey O'Brien tackle every issue of Superman published between The Man of Steel #1 in 1986 and Adventure of Superman #649 in 2006. They're currently sitting in early 1990, Day of the Krypton Man, and it's been a blast going through nearly five years worth of comics with them in just over a year's worth of podcasts. Along the way, they've stopped off for interviews with Marv Wolfman and Jerry Ordway, and my personal hope is that they will be able to sit down with other creators from this era before the podcast runs its course. As I wrote back
here
, this podcast is the inspiration for this project, although we have attacked the same material from two very different approaches.
Amazing Spider-Man Classics
A great podcast, only in its third month of operation. Takes a look at all Spider-Man appearances, starring, guest-starring and cameoing, from Amazing Fantasy #15 onwards. The regular presenting team (including Jon M. Wilson, who will pop up again before we're done with this list) have a great chemistry, and are joined for each batch of episodes by a special guest from the world of comics podcasting, including most recently by Jeffrey "Pants" O'Brien.
Teenage Wasteland: An Ultimate Spider-Man Podcast
Oh, we've already hit Jon M. Wilson
again! Teenage Wasteland takes a look at the decade-long Ultimate Spider-Man series, examining the Ultimate mythology and its connections, homages and deviations from mainstream Marvel continuity. There have extensive side-trips into Ultimate Marvel Team-Up, Ultimate Six, and guest-starring spots for the Ultimate Spider-Man in other Ultimate books, meaning that nearly 30 podcasts later the hosts are approximately one third of the way through the run. Definately a podcast with legs, and one which has grown stronger by standing apart from the From Crisis To Crisis formula.
House to Astonish
No image, as they don't have one. Paul O'Brien, formerly of thexaxis, and Al Kennedy, of various internet comics journalism, team up to record their news, views and reviews every two weeks. A great podcast, and one that I suspect is not listened to by nearly as many people as it should be. They have a wonderful feature at the end of each episode called The Official Handbook Of The Official Handbook Of The Marvel Universe, where they dig into Marvel's list of disused characters and try and update one for the present day, with always interesting results.
Views From The Longbox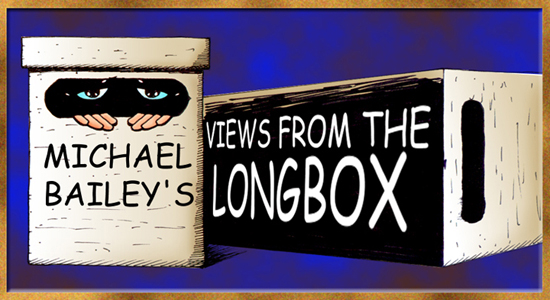 A great podcast, even though it is irregularly updated. Michael Bailey (of From Crisis To Crisis) is a great host, and his topics for each episode are always interesting. I'm kind of grateful about the irregular nature of this podcast, as episodes have been known to approach the three-hour mark, which can be a strain on the ears, even though Michael keeps things on topic and interesting. However, it's been a few weeks since the last one, and I'm starting to get hungry for the next.
Outside of comics, my other passion is for Doctor Who, a show I have loved since the early 1990s, when I chances upon the first published novel by Paul Cornell (soon to be of Action Comics fame), Timewyrm: Revelation. I have a few Doctor Who podcasts in my feed, all of which are working overtime at the moment as the 5th series heads into its final weeks.
The Doctor Who Podcast
Trev, James and Tom, formerly of the WhoCast (see below) produce their own podcast which is very much in the vein of their era on the WhoCast. A great listen, with 2-3 episodes a week at the moment. No image as I can't get it easily from their homepage!
The Oodcast
One of the best new Doctor Who podcasts going. The Oodcast is a wekly review of Doctor Who, supplemented by songs, sketches, and general mirth and merriment. The team have a great chemistry, very high production values, and talent by the bucketload. They even made Chip of the wonderful Two Minute Time Lord (see below) jealous of their talent!
Two Minute Time Lord
One of my favourite podcasts. Chip cuts the waffle out of everything he says, presenting great capsule reviews and commentary on Doctor Who. Love everything about this podcast, and it's a delight to listen to each episode.
The Doctor Who WhoCast
Original hosts Paul and Seb have returned to the Whocast to take it into the Steven Moffat era and beyond. Being produced by DWO Online, they get advance copies of the episodes, resulting in a rapid reaction to the week's episode, often up within hours of broadcast.
The final thing I like to do with my podcasts is to laugh, something I do regularly with the three below. The humour is very British, and reliant on events in the British media, so a warning to anyone outside the UK who wants to give these a go.
As It Occurs To Me
The groundbreaking free to listen live sketch and standup show, nominated for a Sony award, absolutely brilliant. Created, written, and performed by one of my favourite stand-ups, Richard Herring. A shaky first few episodes of the first season gave way to some inspired comedy later on in that season, and the second season is striding forward with confidence and support. You should be listening to this, or paying to see it live. I will be, this coming Monday, to celebrate my 27th birthday.
The Collings and Herrin Podcast
I've been a fan of Richard Herring since the days of This Morning With Richard, Not Judy way back in the late 1990s. Although he doesn't appear on TV so much anymore, he is forging a career not only as a pretty impressive standup comedian, but also at the forefront of the podcast as a means of releasing new material. This one is his regular team-up with broadcaster Andrew Collins, where they simply get together and riff off of each other for just over an hour. Sometimes the standard episodes can be a bit 'meh' (sorry Richard!), but the occasional live podcasts in front of an audience are fantastic.
The Friday Night Comedy Podcast
Depending on what's broadcasting on Radio 4, either the latest episode of The Now Show or The News Quiz, both of which are longtime favourites of mine. In fact, it is this podcast that has given me a backlog of podcasts to listen to, as during the recent UK elections, as well as an episode of The News Quiz, I was getting 3 episodes of The Vote Now Show every week, thanks to The Now Show's creative team going overboard in their election coverage.
Anyway, that's what's on my feed right about now. If you have any suggestions as to any other podcasts I might like to add, please let me know. Otherwise, I'll be back from this unscheduled interruption in my posting with a look at World's Finest #2 at some point this weekend.